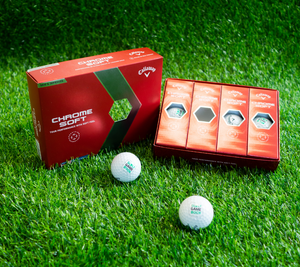 Callaway Chrome Soft '22 - ideal for everyone from professionals to beginners.

Golfers around the world love the soft feel, fantastic length and forgiveness of the three-piece Chrome Soft. It offers more length for opening shots, lower spin for iron shots and good control around the green.

You now have the opportunity to get Chrome Soft balls with the Golf GameBook logo at an amazing price!

Each package contains one dozen golf balls. Max order 5 dz/customer.
Colour: White